People in my own industry have told me on several occasions that there is a Sake shop – a real Sake shop – that sells only premium grade Sake and Sochu in New York. The Shop, called 'Sakaya', is run by Rick Smith-san and his wife Hiroko-san. When I first read the name 'Sakaya' I thought it very unique for a foreign Sake shop.
Why? Because the word 'Sakaya' actually means 'Sake Shop' in Japanese.
I always wanted to meet the proprietors of the establishment – Rick-san and Hiroko-san – in order to ask questions and learn from them. To that end, during one of my business trips, I visited Sakaya in New York to meet and talk to the owners.
Now, while I was visiting I wanted to learn 3 things:
Who exactly is the ideal Sake customer in America. Is it the locals, the American people, or is it Japanese people living in NY?
How old and what age category do the people buying Sake usually come from?
What's the key success of running a Premium Sake shop like Sakaya in New York?
My main reason for visiting USA this time was to meet up with my importer. Before meeting up with him however, I decided to pay a visit to Sakaya to meet Rick-san. He was very open to my visit and both kind and welcoming at my arrival.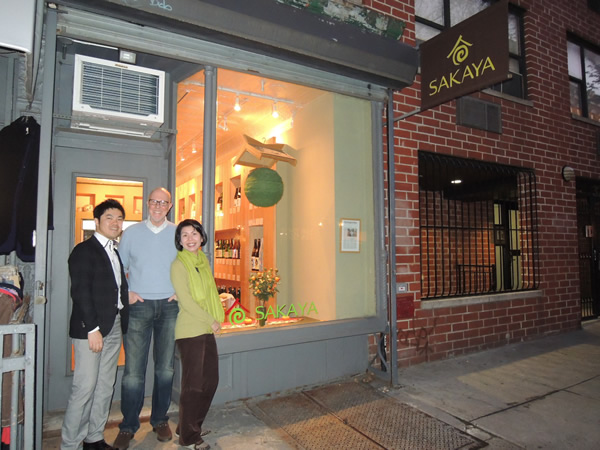 Me, Rick-san and Hiroko-san at the front of SAKAYA. The Green ball you can see by the window is called "SUGIDAMA". It's a traditional Japanese sign hung at a Kura (Brewery) to announce that new Sake has been brewed.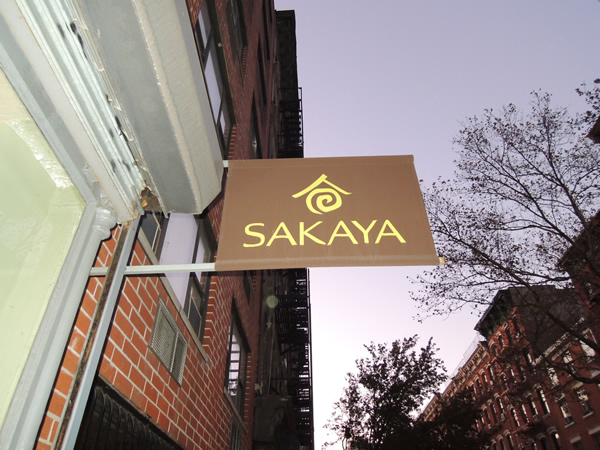 Also, take a good look at the sign; you will see their Logo, which also looks like a SUGIDAMA. Hiroko-san is a very proficient designer, and she designed the Logo mark as well. She is really good at branding the shop – cooperation is one of the keys of running a successful business.
As I entered the Shop, I was amazed to see the wide variety of Premium Sake available at Sakaya. Not only that, but as the picture below displays, Sakaya has a very different presentation of their products than most Alcohol and Spirit shops in the USA.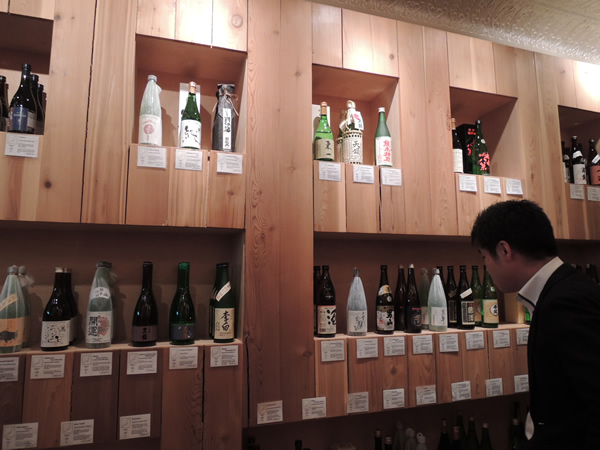 Unlike the regular liquor shops in the USA or any other place's liquor discount stores where cheap alcohol is sold, Sakaya displays sake with some spaces between bottles. This results in several things. First of all, it looks very organized. Secondly, it gives an air of a very luxurious product, which Sake of course is. Thirdly, the atmosphere in the store adds to the whole "Sakaya" authentic feel. Rick-san is of course always there as well, helping you with information about the various brands of Sake. He is extremely knowledgeable and never hesitates to help or share his wisdom.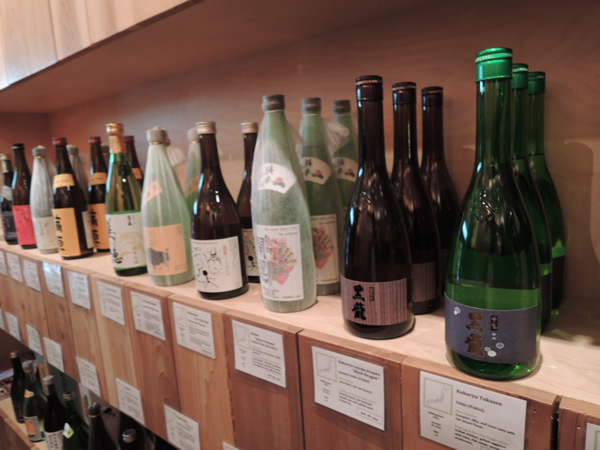 They put labels by the bottle where the sake producer's region is illustrated by showing the highlighted map. They also give you an easy-to-read description about the bottle. Noticing their hard work? Yes, they do it for ALL of their items – an amazing dedication, truly.
Tasting sake is a great experience
They also host in-store tasting events every once in a while, so repeat customers can discover the new products. Also, they invite new customers or Sake beginners to taste and get ideas of exactly what they are purchasing.
When I was visiting, Rick-san let me taste the "Fall Seasonal Sake", this is exactly what people in Japan are drinking around this season. The fact that you can actually get seasonal Sake (unlike most other Spirits, Sake has different seasons) is pretty amazing.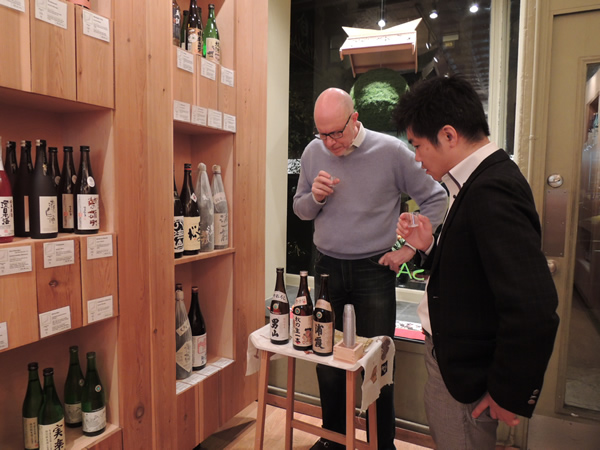 The Sake event started at 5 PM – this picture is taken at exactly 5 PM.
10 minutes later, the place was like this….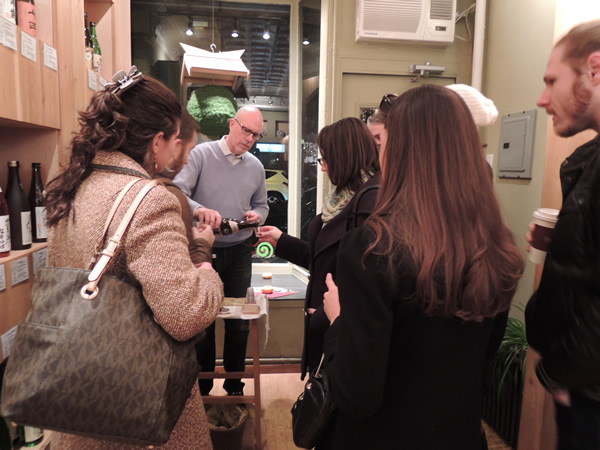 The store was packed with about 10 people at all times, and the customers kept coming in and out. It was just busy for about two hours straight. It truly shows the local interest in Sake and the fact that it's a growth industry.
People who knew there was a tasting event were excited to discover new types and brands of Sake, and the walk-ins were drawn by the crowd in the store and ended up enjoying their first Sake. What struck me was the amazing success of this approach. Rick-san sells Premium Sake in the 30-100$ price ranges, making them very expensive for most. However, many of the customers were purchasing Sake, from regular customers to walk-ins. Everyone was also interested in listening to Rick-san talk about Sake, teaching them how to drink and enjoy the fine alcohol.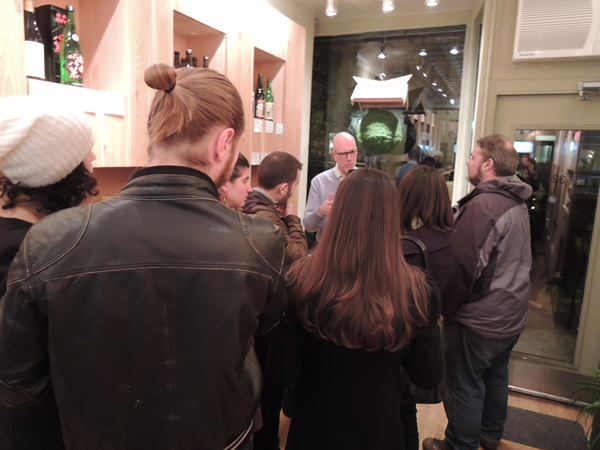 I also had chances to talk to many of the customers. Most of them were local American customers who purchased Sake regularely, but I also got a chance to talk to some of the walk-ins. There was a guy who was relatively new to Sake. He told me that he had sake at restaurant last night, and it was amazingly delicious, so he wanted to enjoy Sake it at home as well as giving a bottle to one of his friends as a gift. I presume that this is a social thing in New York, where you share quality information and products with others, including through Facebook, Blogs and other social media and electronic communication.
Learn from the real sake shop owner
One of my questions when visiting Rick-san was the average age of the Sake customer frequenting his store. I noticed that the average age seemed to be middle 20's to early 40's, which makes it a relatively young average age.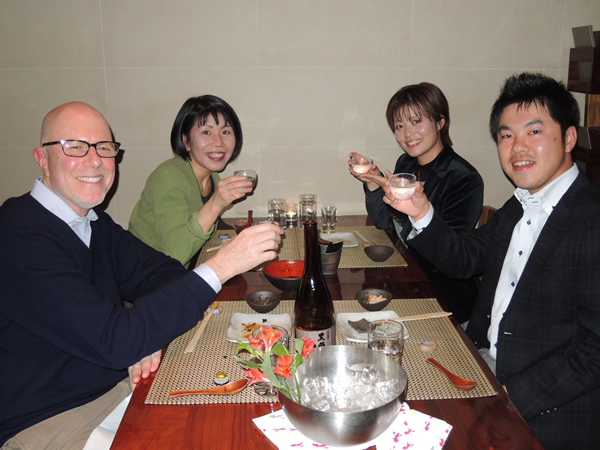 After the store was closed, Rick-san took us to one of his favorite Japanese restaurants that in fact is very close to his shop, called Kyoya. I asked him many questions that I really wanted to learn, and he kindly answered all of my questions. Rick-san is a gentle person, he is always open minded for sake enthusiastic people. It was a very enjoyable evening with excellent conversation.
So, why is Sakaya such a successful store in a Niche that could be presumed to be very small?
I believe it to be the following key points:
(1) Specialized in premium sake
(2) Branding
(3) Passion, knowledge of sake
(4) Cooperation
(5) Personality
I noticed these things during our conversation, and want to keep in mind all the time. Rick-san and Hiroko-san were very passionate about sake, and I'm sure if someone is looking for quality sake in the US, you can go check their store or the online store (they also have a very extensive online Store). They will help you to find the sake you want, and you will never disappointed by their utterly professional recommendations. Truly, Sakaya is the place in the USA and especially the New York-area for premium Sake.
If you need assistance, contact them!